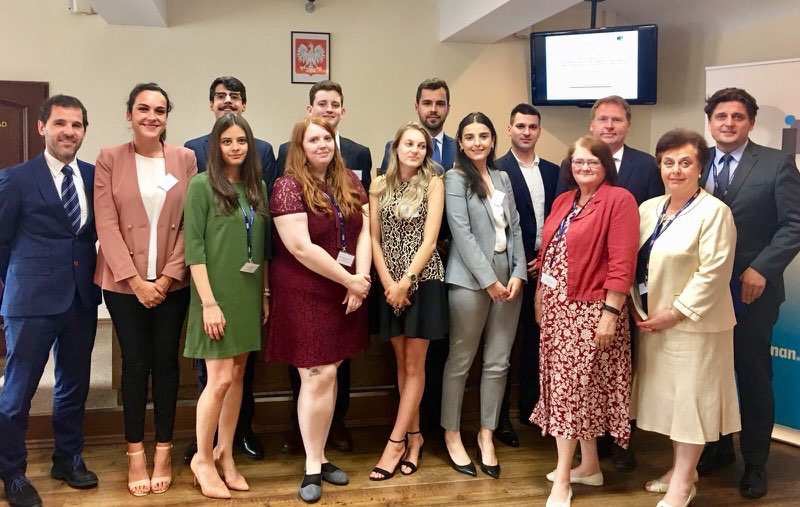 "All people are born free and equal in respect of their dignity and their rights, they are endowed with reason and conscience and should act towards others in a spirit of brotherhood." Art. 1 of the Universal Declaration of Human Rights
Under this slogan, the European Bars Federation / Strasbourg (FBE) and the District Chamber of Legal Advisors / Poznań (OIRP) organized on the 29 and 30 June 2018 at the headquarters of OIRP in Poznań / Poland, the I International Young Lawyers' and Law Students' Human Rights Oratory Competition. The organizers, through this event, invited young lawyers and law students (age up to 30 years of age) to disseminate the values of the Declaration of Human Rights.
Many young lawyers, law students, responded to our invitation addressed to them. After the preliminaries, 9 semi-finalists from such countries as The United Kingdom, Spain, Serbia and Poland were invited to participate in the Competition. The theme of the oral presentation of each of the semi-finalists was the same and was based on the Declaration of Human Rights – well known to everyone.
The participants of the competition were: Mr. Christopher Banks (London), Mrs. Paola Cuenca Chamorro (Madrid), Mr. Aleksa Filipov (Vojvodina), Mrs. Klaudia Gozdz (London), Mrs. Nekane Legorburu (Bilbao), Mrs. Paola Moctezuma (Madrid), Mrs Elizabeth Smith (London), Mr. Rafał Sokół (Warsaw), Mr. Darrieux Raposo Roi (Bilbao).
The speeches of individual participants during the two days of the contest struggle were subject to a broad but objective assessment of the international jury composed of: Artur Wierzbicki, (Poznań) – Jury President, Professor Sara Chandler (London) – Jury Member, Mrs. Monique Stengel (Paris) – Jury Member, Mr. Marc Wesser (Berlin) – Jury Member.
On the first day of the Competition, the final four were selected. On the second day, with a slightly changed formula of the speeches, as a result of the Jury's deliberatin and its unanimity, the winning four were selected:
1. Mr. CHRISTOPHER BANKS (London) – 1st place
2. Mr. RAFAŁ SOKÓŁ (Warsaw) – 2nd place
3. Ms. PAOLA CUENCA CHAMORRO (Madrid) and Mr. ALEKSA FILIPOV (Vojvodina) – 3rd place ex aequo
The competition was an excellent opportunity to practice oratory skills of young lawyers and law students as well as exchange experiences in this group. The next, second edition is planned for next year.
Artur Wierzbicki,
President of FBE Human Rights Commission FBE