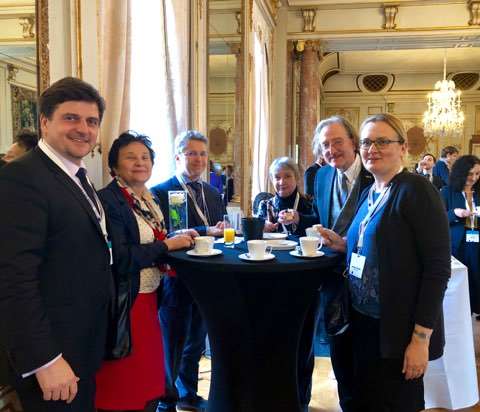 4th ANNUAL COLLOQUIUM BRUSSELS, NOVEMBER 26-27 2018
The theme of the 2018 colloquium was "Democracy in the EU".
The Opening Speech at the Annual Colloquium on Fundamental Rights in Brussels/Belgium was done by Mr Frans Timmermans, First Vice-President of the European Commission.
In some words he presented the main subject as a fundamental right and the rule of law, one of three pillars which shall forever anchor the European Union. He wished the participants great discussions to highlight the role of political parties, civil society, organizations, platforms and other stakeholders in mobilizing citizens. I was one of them .
The Colloquium aimed to reaffirm that Democracy is a central value common to the European Union and all its Member States, and looked at how to renew democratic engagement within the European Union and the European societies. This debate was timely also in the context of the upcoming European elections and on the
occasion of the seventieth anniversary of the Universal Declaration of Human Rights.
At the Colloquium as well as at the panels and parallel sessions we all worked together to identify avenues to foster free, open and healthy democratic participation in an era of growing low turnout in elections, populism, digitalisation and threats to civil society.
There were a variety of panels :
Resilient and inclusive democracy in Europe
A free and strong civil society for a vibrant democracy
Free and fair elections and an informed and pluralistic democratic debate. Of course among participants there was also a great time to discuss one to one some of those topics.
I do recommend to everyone if it would be possible to take part in the next 2019 Annual Colloquium on Fundamental Rights.
Artur Wierzbicki
President
FBE Human Rights Commission